Perhaps your bathroom has looked the same for ages. Maybe you've just moved into a house that is a little more "retro" than desired. Whatever the case, there are numerous ways to update an outdated bathroom at various price points.
Feeling stuck? Use these ideas to jumpstart your bathroom's makeover!
1. Switch out the fixtures.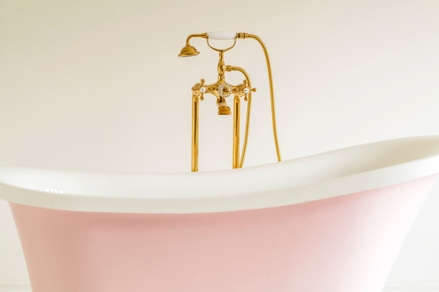 Even an older sink and tub can look bright and new modern faucets and handles. Bronze fixtures play well with vintage pastel hues like mint-green, mauve, and baby-blue and will also look great if you ever decide to switch to a neutral palette later.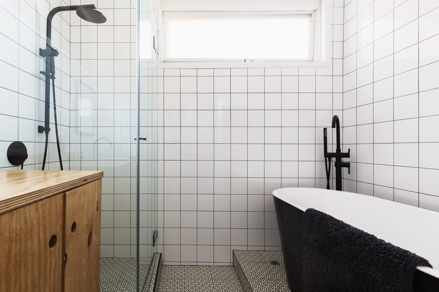 If you're not a fan of minimalistic, modern faucets, a shiny, chrome faucet with a vintage-inspired design can both refresh and compliment your bathroom's look. For an ultra-modern look, update to black fixtures.
2. Paint the tiles.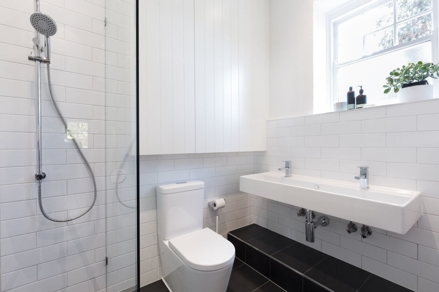 If you absolutely can't stand your bathroom's mint-green tile, you can paint it until you have enough in your budget to replace it. The tile will need at least one coat of a high-adhesion, oil-based primer before you can apply color. While painting your tiles is something you can attempt on your own, you may want to hire a professional painter who will have a better idea of what kinds of materials will work best with your specific tile's condition.
3. Update the floor.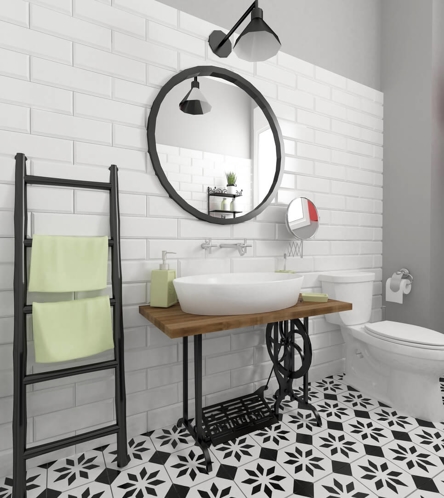 In addition to painting your bathroom walls, you can paint the floor as well. Sherry Petersik from Young House Love created a playful, gray-and-white pattern on her beige, tile bathroom floor for under $75! Blogger and DIY ninja, Susann Riley, transformed a plain linoleum floor into a lovely design statement to match her farmhouse-eclectic style.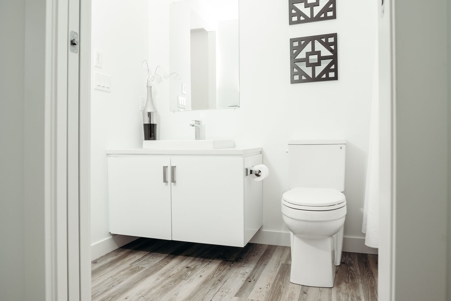 If painted, patterned floors aren't your cup of tea, try vinyl plank flooring like blogger Jenna Kate in her 1960s master bathroom update. It's waterproof (unlike real wood), DIY-friendly, and budget-friendly when compared to natural stone. You can even install it on top of most existing floors.
4. Change the mirror (or mirrors).
Updating your bathroom's mirror to reflect (forgive the pun) your sense of style will make the space feel more like your own. It can also add some dimension while still preserving that feeling of openness that a small room needs. For drama, add a statement mirror with a bold frame or unusual shape over your bathroom vanity. For more subtle depth, choose a mirror with a frame that matches the vanity or the wall color behind it.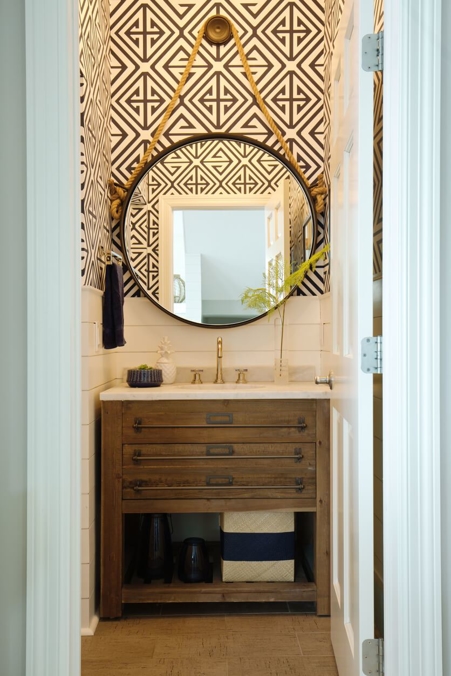 5. Ditch the round, padded toilet.
It's the kind of toilet you remember from your grandparents' house, the type that makes you feel like you're sitting on a small, vinyl donut. If this describes your current toilet, it's time for an update to something that's easier to keep sanitary. Modern toilets have more of an oval-shaped seat that's easy to lift and access from underneath while cleaning. By upgrading to a new toilet, you'll also benefit from its ability to conserve water.
Ready to update your plumbing fixtures? Ready to tackle a whole bathroom remodel? At EZ Flow Plumbing, our team of licensed, bonded, and insured plumbers are capable of handling the plumbing side of your home makeover.